Out With the New, In With the Old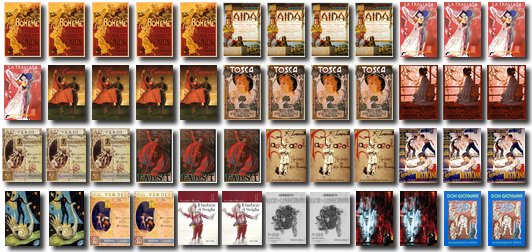 When the avant-garde jazz group The Bad Plus first covered Nirvana's "Smells Like Teen Spirit" almost ten years ago, they inspired heated controversy for their supposedly non-traditional approach to jazz. But when John Coltrane first recorded his now classic 1960 performance of the show tune "My Favorite Things," he too was improvising on a pop-sensation, one in fact written only a year earlier. It is easy to forget that today's jazz standards were once new music, and that the seemingly hard line between pop music and classics is remarkably fluid.
The Metropolitan Opera opens their new season this week with perennial favorites: The first opera of Richard Wagner's Ring Cycle, Das Rheingold (1869), Giuseppe Verdi's Rigoletto (1851), and Jacques Offenbach's Les Contes d'Hoffmann (1881). These operas are all well over a hundred years old, a fact that may not come as a shock to opera-goers, who are used to a steady diet of Puccini and Verdi. When these operas were first premiered at the Met, however, they were all less than 35 years old. When did the Met operas get so old?
The Metropolitan Opera Association recently released a comprehensive online database of the Met's performances, creating an unprecedented opportunity to systematically explore trends in opera performance and audience tastes. Sharad Goel and I looked at all 25,000-plus performances that span the 127-year history of the Met.
We found a striking trend when we plotted the average age of operas performed each season. During its approximately first forty years, from 1883 to 1920, the Met was performing relatively contemporary operas—works during these first decades were on average 40 years old. In the early 1920's, however, the Met programming froze in time. Since then the Met has been performing operas that on average premiered around 1870. As a consequence, today's operas are on average 140 years old.[1]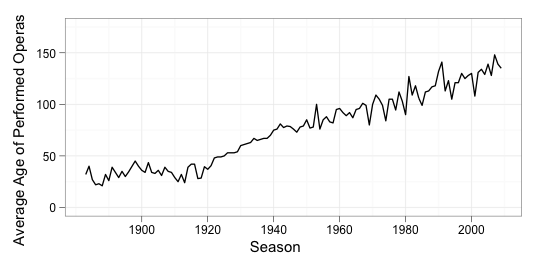 What happened in 1920, and why? Cultural historian Lawrence Levine argues convincingly in his book, Highbrow/Lowbrow, that in 19th century America, opera—along with Shakespeare and other classical music—was popular entertainment enjoyed by the masses. It was only around the turn of the 20th century that opera became the purview of the elite, a status that it retains today. By the 1920's new art forms, like movies, radio, and jazz, had captured the public's imagination and supplanted opera. Although there is no definitive answer, I suspect that the stagnation of the opera repertoire is directly linked to its leaving the realm of popular music earlier in the century. As opera became "elite" entertainment it lost the experimentation and vitality that comes from having a broad, engaged audience that drives the demand for new works. These cultural trends played out at the Met under the long tenure of Giulio Gotti-Casazza, who served as manager from 1908-1935. He found remarkable financial success beginning around 1915 by alternating large numbers of staple repertory fare with novelties, a formula that the Met has stuck with to the present day.
As the Met focuses on expanding its audience base today through its Live in HD broadcasts at movie theaters throughout the country, and as it updates its productions with new sets and costumes (like the new Ring Cycle this season), they should look for inspiration in their historical roots. Contemporary operas were, and can be again, a vital component of the popular music scene.
N.B. Thanks to Dan Reeves and Sharad Goel for comments. The graph above was generated with ggplot2.
Illustration by Sharad Goel. Each tile corresponds to approximately 250 performances of the opera at the Met.
Footnotes
[1] Starting around 1920, not only did the Met consistently program music from the late 1800s, but they also began to program a lot of the same old music, establishing an operatic canon. Nineteen operas written by eleven composers account for more than half of all Met performances since 1920. In particular, today's number one opera, Puccini's La Bohème, has been performed a record 1217 times since its 1900 debut.